Like a few millionaires of Italians, I am "taking advantage" of this period of forced but inevitable quarantine to test some dough recipes and cooking procedures with a view to improving my versions of some
Sicilian leavened products
.
A premise is a must: everything that is traditional suffers the limit of being more or less codified and any attempt to introduce an ingredient or to dare an exogenous procedure is mostly attacked and rejected by radical traditionalists. Could this happen for fear of discovering that we can obtain a better version, in our specific case, of
focaccia
which questions the grandmother's ancient and sacred culinary knowledge? To avoid misunderstandings, this does not mean that grandmothers cook badly, on the contrary ... But that often a little courage is needed, of acceptance that some reassuring culinary certainties can wobble ... Are you willing to take risks? Very well…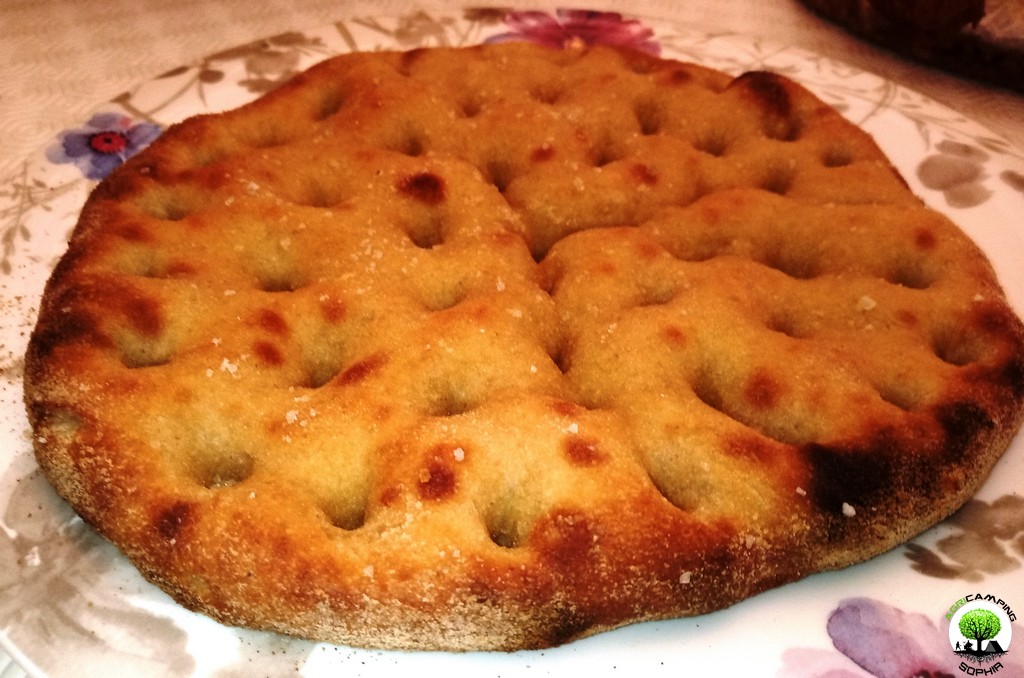 If you search online for the
Messina focaccia
recipe, for example, you will mostly find
direct doughs
with abundant abuse of lard which would give more "crunchiness" than extra virgin olive oil olive. As a good "scientist" I have tested this theory more than once in the field. First of all, what is lard? Basically, lard and pork fat, concentrated (for the rest there is Wikipedia ...) When did I use it? When some recipes included it (for example fried gnocco or Messina hard pidoni) and when for some reason (there are many ...) my dough did not rise well or I was in a hurry to use it. In other words, your dough has come to suck. Solution? Lard. More than giving "crunchiness",
lard also gives softness to a shoe sole
.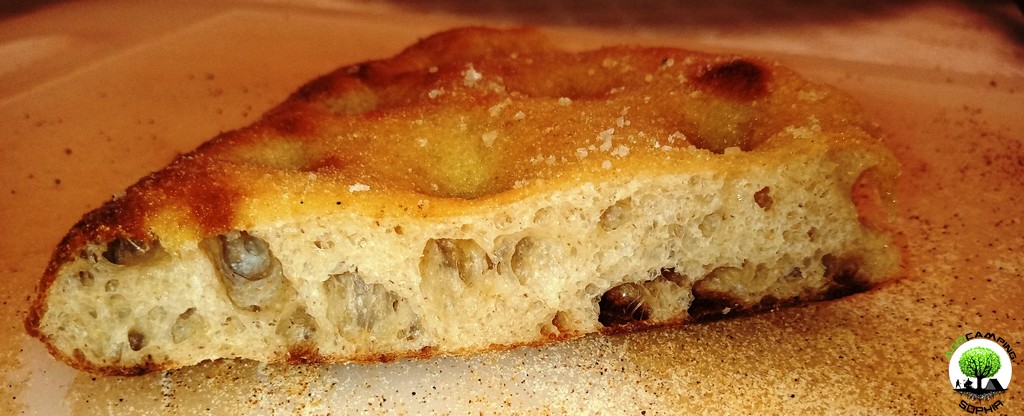 Clearly mine is just one opinion among many. I ask if I am not very diplomatic. However this is my experience in this regard.
How to make a good focaccia dough
without tons of lard? With a lot of patience. If you are not patient, put a "Soft Pizza Margherita Findus" (I'm not inventing it: it's called that!) In the oven and in a quarter of an hour you will have filled your belly (but I have doubts about the relatively short times of digestion).
There are two types of dough: direct and indirect.
In short,
direct
doughs consist of directly combining almost all the ingredients at once.
Indirect
doughs consist of letting only a certain percentage of ingredients rise for 16 hours, then adding the remaining ingredients: in this case we talk about
poolish
(100% hydration) and
biga
(50% hydration). I avoid going into too much detail that I will take care to deepen on another occasion. Ah! Maybe I have to specify it: hydration is the amount of water compared to flour.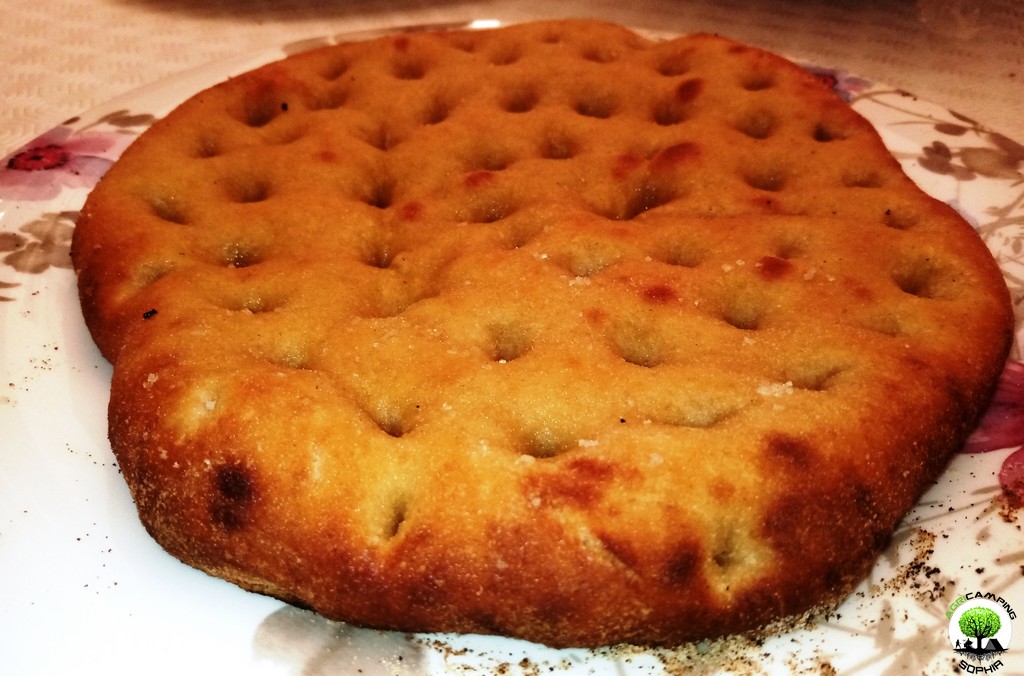 I then compared three different types of procedure
, for the same amount of time spent, with the same ingredients, to determine whether it was really worth choosing one type over another:
direct, with biga , with poolish
. All the doughs have in common 300 grams of 00 flour and 200 grams of wholemeal Russello and Tumminia (both Sicilian semolina): this for now passes the convent. I suppose it is medium-low strength flours (an indicator of strength, i.e. tenacity, extensibility and absorption capacity of liquids, it can be the amount of protein per 100 grams, however it is an empirical laboratory test for which is either indicated on the packaging or you can ... just just deduce)
All the doughs have 30 grams of extra virgin olive oil, 20 grams of sugar, 15 of salt, 67% of total hydration and 100 grams of mother yeast. For the nerdiest: I didn't have pure autolysis (water and flour) directly, but I just added salt and 50% oil after 16 hours.
After 24 hours and a couple of regenerations / folds (out of a 67% I don't know how to technically consider them) without altering their composition (therefore always in the bowl and without the aid of additional flour) I obtained a stick of about 200 grams from each type of dough, proceeding to what is technically defined
proof
, that is to give the final shape that the focaccia will have a couple of hours from cooking, a sort of "second leavening" so that the glutinic mesh is "Relax" in the final form. From the direct I took a second loaf that I would have "ironed" (strictly by hand since the rolling pin must be used only for shortcrust pastry ...) at the moment, to also test the validity of the
proof
. Poolish and biga accounted for 30% of the final dough. It goes without saying that all the pre-baked buns were of the same thickness (just under one centimeter). I cooked everything on
refractory stone
, with a home oven, as they say in jargon, "ball" (on paper 250 degrees Celsius), in "pizza" mode (static in the lower heating element, grill in the upper one, ventilated in the rear one), strictly for three and a half minutes (so as not to distort the comparison).
These are the empirical results:
- proof is not only form but also substance, giving the focaccia a better taste, more fragrance and better cooking
- the direct dough without proof was less cooked, with a cornice just mentioned, at the bite more similar to the softness of a Neapolitan pizza but overall, albeit sufficient, the worst test among the four
- the direct dough with proof was more uniform in terms of shape, baking and overall better than the same dough without proof
- indirect doughs are both superior to direct dough, for uniformity and "effectiveness" of cooking, flavor and fragrance
- the mix with poolish was found to be more delicate, with a more intriguing, regular and beautiful honeycomb, however tending to be less suitable for the biga for bread-making
- the dough with the biga is the one that initially convinced the most for the expectation compared to the idea of ??focaccia that we had in mind, more "panoso" than the poolish, therefore to be chosen in consideration of this particularity >
N.B. It is clear that this comparison has no absolute value but is related to the (scarce) ingredients, the type of oven, the rising temperature (about 20 degrees Celsius) and all the environmental factors that you want to take into consideration.
I thank Marta, Corrado, Filippo, Sefora, Giampiero and Lorena for their precious technical-scientific advice.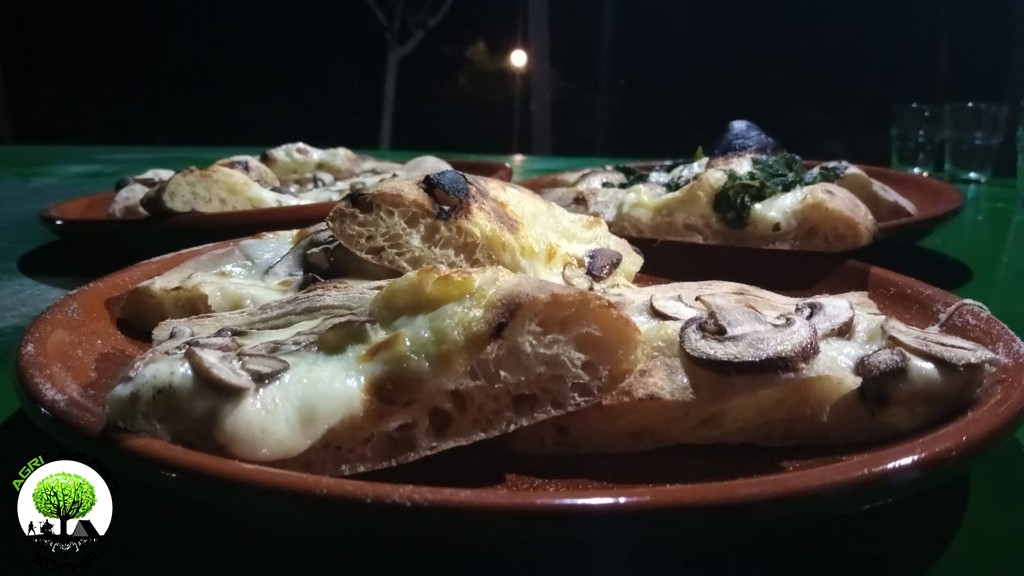 BETWEEN CHRISTIAN'S LEAVES AND BRESSANINI'S SCIENCE
When we tell you that we take care of our blog regardless of the association with our professional activity, do not believe us because we would be stupidly lying. Obviously, without any passion, nothing interesting and credible can come out. But it is clear that if some casual reader, attracted by our content, also ends up intrigued by our business or simply distractedly sees our logo, it doesn't really make us sick ... To conclude the "festival of the falsely secret obvious", it seems only right to remember that even those who curate a channel on youtube or a group on Facebook, if they offer original and quality content, have certainly taken hours, hours and hours of study and work to offer them anyway for free, and it is sacrosanct if he finally manages to repay at least the expenses or even to earn something with advertising and sponsorships. The only rule to be respected is...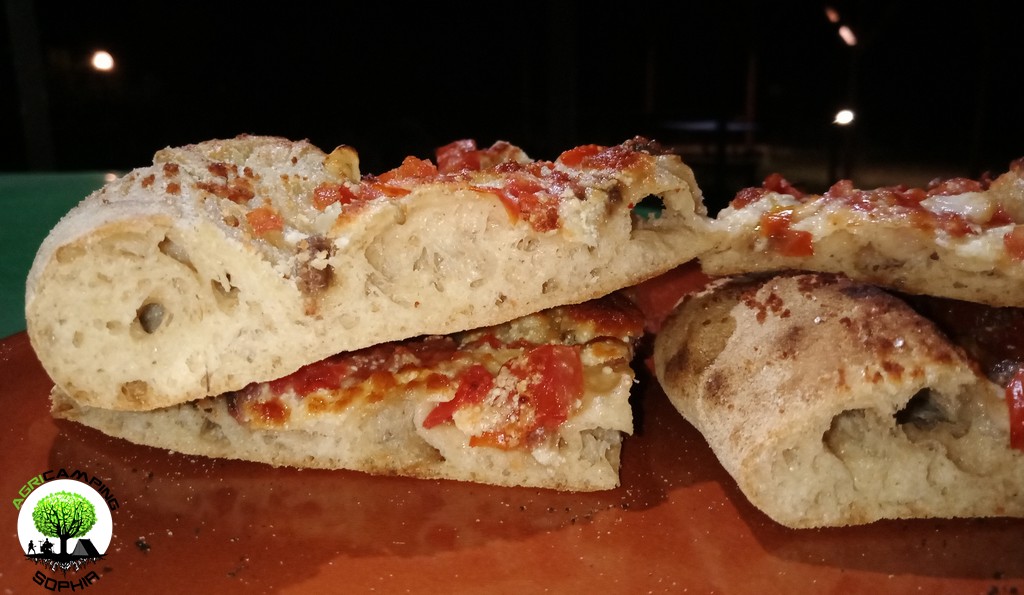 ANCIENT GRAINS BETWEEN OLIVE OIL AND AUTOLYSIS
We are trying to completely abandon the use of non-Sicilian flours for our leavened products, not only for the pleasure of rediscovering those ancient grains that, regardless of the fashion of the moment, our grandparents really used, not only to distance themselves from those standardized flavors that we can now find everywhere, but also because the criteria of wheat production in Italy, unlike the overseas jurisdictions, severely limit the use of plant protection products whose effective harmlessness for man is yet to be proven. Even if so far we have been supplied by Italian and Sicilian mills, it is obvious that particular strong flours cannot be entirely derived from wheat grown in the Bel Paese, simply due to statistical improbability (given that production in Italian territory of soft wheat covers only 30% of the national needs) and because, for climatic reasons, few areas...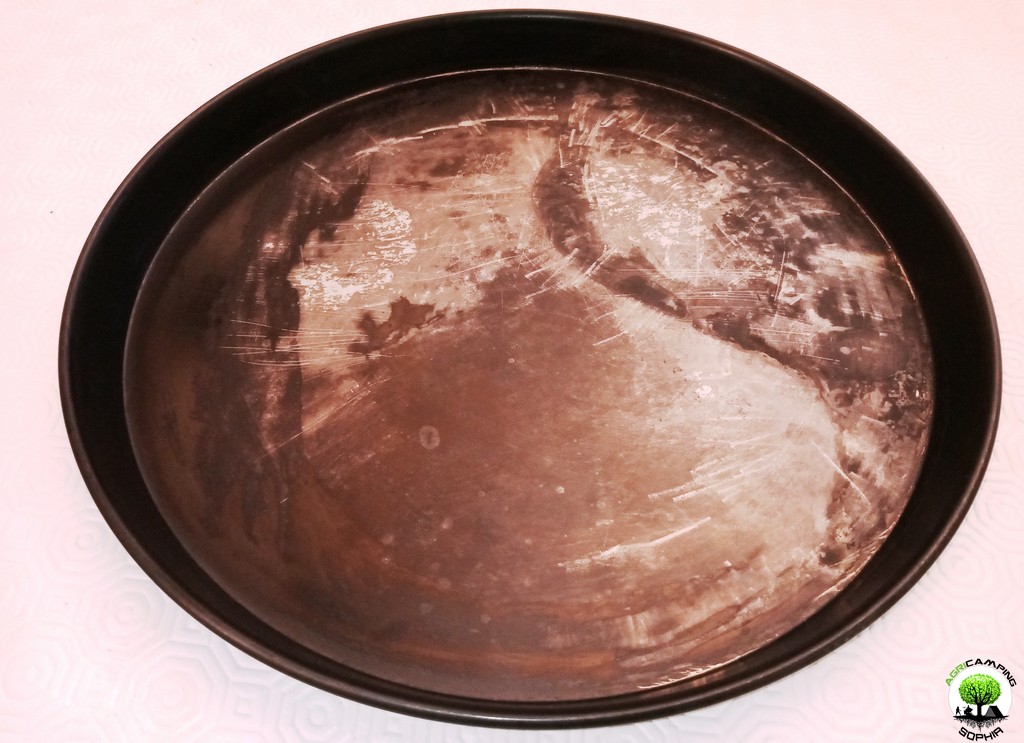 FROM CROCODILE IN NEW YORK SEWERS TO BURNING BLUE IRON TRAYS
If, like us at Agricamping Sophia, you are fond of pizzas in the pan and focaccia, you have certainly received the news or have accidentally read the miraculous cooking skills of the legendary blue iron trays . Out of curiosity, also thanks to the lockdown due to the Covid-19, we purchased a couple, for private use, from different manufacturers. Being aware, through the attendance of specialized forums and the reading of a myriad of articles on the net, of the mysterious burning which should be a preliminary operation necessary to give the green light to their use, we are here uncritically lavished in following to the letter one of the guides found among the first results of Google. The outcome? A lot of smoke, the smell of burnt oil throughout the house and two apparently ruined trays. Immediately consulted the forums we mentioned, the diagnosis is that we would probably have used...

REFLECTIONS ON THE MOTHER YEAST AT THE TIME OF THE CORONAVIRUS
Cast the first stone anyone who has never kneaded (at least their first time ever ...) with the penem canis , unloading a whole 25 grams cube of brewer's yeast in half a kilo of flour, as if he had had to leaven the bowl too ... And after a couple of hours (miracle!) find yourself munching with difficulty on the biscuity or chewy result wondering why he didn't even remotely remember a pizza ...The "problem" is that, as already more fully explained regarding the phantom autolysis , if leavening occurs more quickly than protein synthesis , that dough loses edibility and becomes more suitable for alternative uses, for example as glue ... leavening is not the only chemical and microbiological process that takes place in a dough but it is certainly among the most important. And if on the threshold of the "second phase" of the lockdown because of the covid-19, it is even easier to...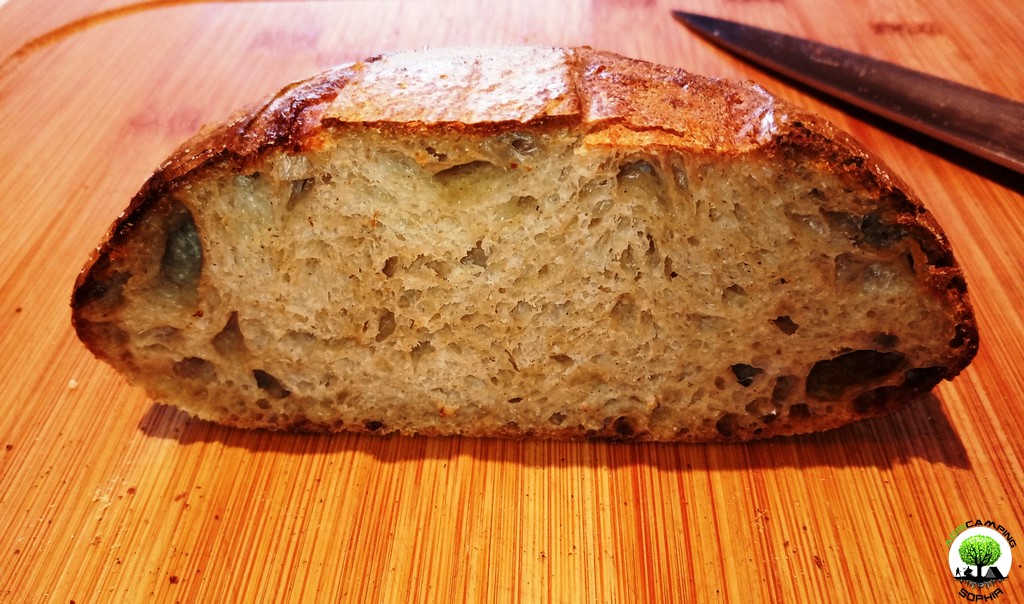 FOCACCISM PHENOMENOLOGY: AUTOLYSIS OR POOLISH?
Brutally skip preambles and introduction, if you miss it, read the previous phenomenological examination concerning poolish, biga and proof . The aim is, sic et simpliciter, to try to understand, through empirical tests, what are the best ways to enjoy one of the most welcome gifts that mother nature and human ingenuity have made us: the focaccia! What is poolish? It is a preferment prepared with equal parts of water and flour and a minimum amount (as far as I am concerned) of yeast, better if stuffed in the refrigerator ( obviously in a bowl ...), so much the yeasts are active even between 4 and 8 degrees Celsius, for 16 hours (if at room temperature, for much less time but the final quality of the poolish will also be different). The rule of leavened products always applies: if you are in a hurry, the crepes (crepes, for the Francophiles) are prepared in much less time ......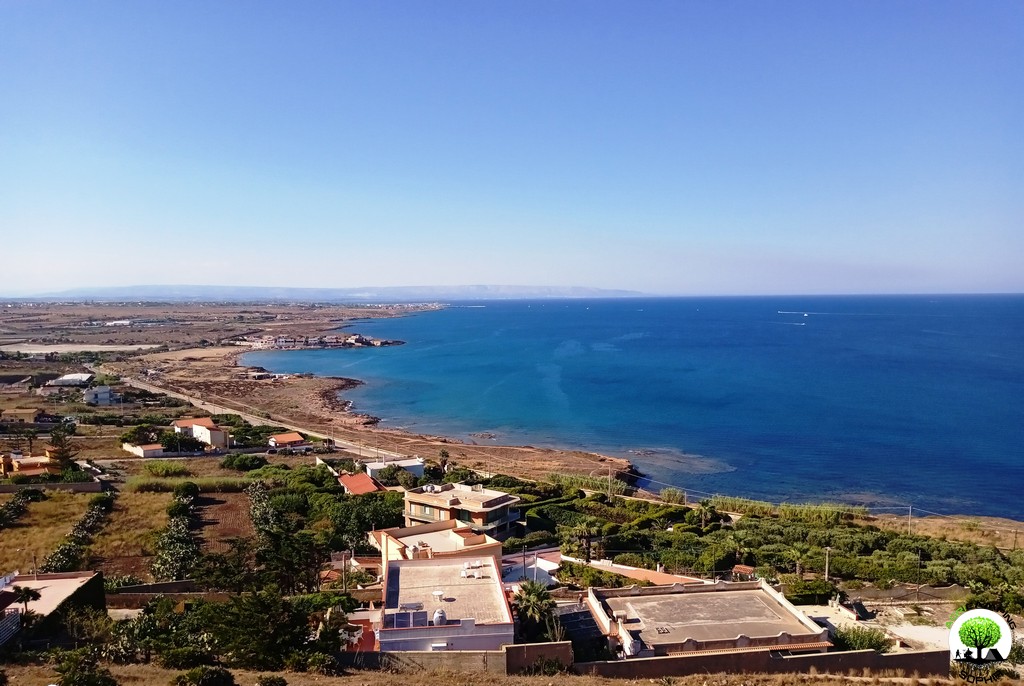 TORRE FANO: FOR 2500 YEARS THE SHOULDERS HAVE BEEN LOOKING AT US FROM THE PIRATES
When and why it was built We know that in 1526 Torre Fano was partially destroyed by the barbarian corsair Dragut (actually admiral of the Ottoman fleet, viceroy of Algiers, lord of Tripoli and Mahdia), habitual of looting and raiding on the Sicilian coasts. The phenomenon of barbaresca piracy (from Barberia, that is the name with which the Europeans from the Middle Ages defined the African Maghreb, inhabited precisely by the Berbers), politically connected to the Ottoman Empire, between the 14th and 19th centuries it was a real scourge for the development of the Sicilian coasts. The barbarian corsairs did not limit themselves exclusively to boarding and raiding ships but were also protagonists of the deportation and enslavement of thousands of Sicilians (for example, in Lipari, in 1544, 9000 people were deported), for them a significant source of income (a young European slave could...
TRIPADVISOR BUSINESS ADVANTAGE? 400 EUROS LESS IN POCKET...
Well yes... we succumbed to the "system"! Despite our enormous concerns about it , at the end of the month of In August 2019, we were persuaded to shell out around 400 euros for the TripAdvisor Business Advantage package. What would we have liked to achieve? Visibility in the default ranking of TripAdvisor, that is the one relating to the quality / price ratio. Before entering into the contract, to the Business Development Sales Executive from whom we were contacted and subsequently also to the Senior Customer Success Executive, we explicitly expressed the sole need to have visibility in the default sort order. We were therefore told that the Business Advantage package would give us the opportunity to insert our own Special Offer that would allow us to be included in the ranking according to the quality/price ratio . Was that actually the case? No, because whoever pays more actually...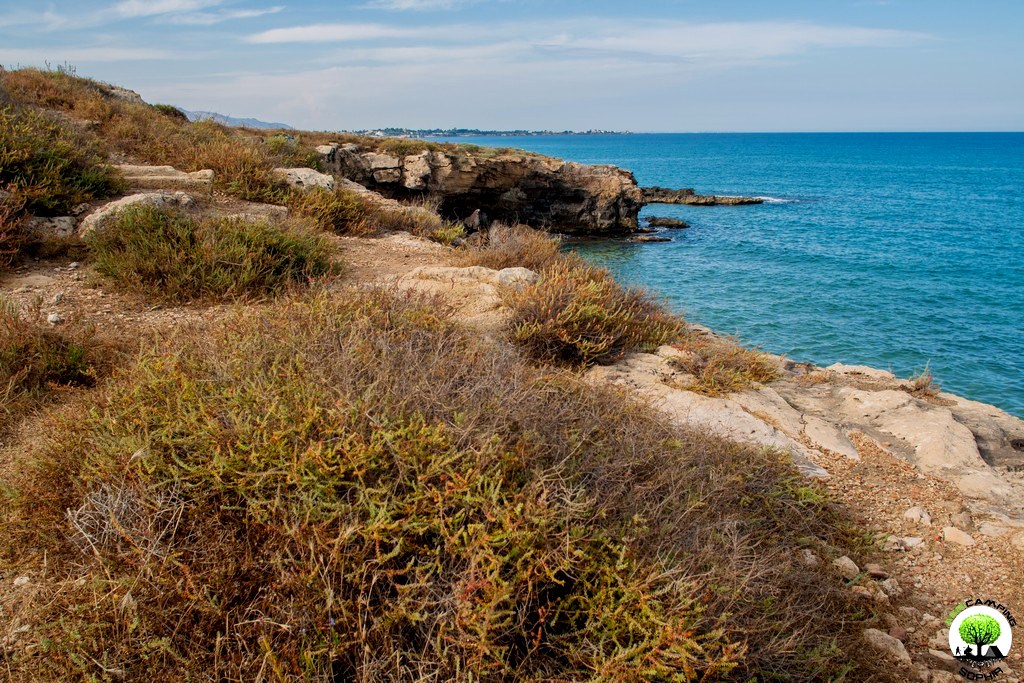 THE PORT OF ELORO
We have already spoken extensively about Eloro here and here. It is no secret that he considers it among the most fascinating places in the district and when I have the opportunity, for example to act as a guide to some friends, I go there with pleasure. Just during one of my last walks along the "path" that "connects" the beach of Eloro with the Pizzuta beach, I had the opportunity to focus on some rock formations that, given their particular shape, have always aroused my curiosity, suggesting not only that they had nothing natural (and therefore they were linked to the archaeological remains abandoned behind the fence) but also that that stretch of jagged coast, between the two splendid sandy beaches, in the past had to present itself in a radically different way.However, I have a duty to clarify that walking that "path" (which I am not by chance writing in quotation marks,...