Dear friends, we have delayed as much as possible in the hope of receiving encouraging news from our bank in order to accept the HOLIDAY BONUS . Unfortunately, we are forced to inform you that WE CANNOT ACCEPT IT .
For the tax regime in which we are currently and, therefore, on the advice of our accountant (who we pay to take care of our interests ...), the only spendability of the HOLIDAY BONUS, as far as we are concerned, would have been its conversion into currency immediate and loud. However, according to our bank contact, the bank has not yet created a tool for this purpose and it is not known if and when it will.

Our very personal HOLIDAY BONUS for you is the confirmation of a single rate (the cheapest) for the whole summer season (and it's the best we can do right now).

(18/07/2020) Antonino, Dario and Gaetano

For phone calls in English only +39 3473079242 or + 39 3408099819

NO CAMPER, NO CARAVAN, NO AIR-CAMPING: we do not provide any service for campers, caravans and similar. Not even loading/unloading.

The kiosk is active from 10 July to 31 August. The organization of jam sessions and similar activities coincides with the period of activity of the kiosk.

RECEPTION: (from 10 July to 31 August) from 9:00 am to 1:00 pm and from 4:30 pm to 8:30 pm, however, if you can't find anyone, call us...
< br> Check in :
- bungalows, from 13:00 to 14:00 and from 17:00 to 19:30
- camping, from 11:00 to 14:00 and from 17:00 to 19:30

Check out :
- bungalow, before 10:30 am
- camping, before 11:00
LAST MINUTE
Exceptions to the requirement to book at least 6 nights
:
- Aristotele Mobile Home from the 24th to the 26th of august!
- Empedocle Glamour tent the night of august 15th
Call to book!
AGRICAMPING SOPHIA
Who are we?
We are a group of musicians, educators and philosophers who have decided to roll up their sleeves and come up with a way not to leave their land, just going back to the land. Leveraging on our proud scouts and peasant roots, we set up an specialized camp site, for tents only,in one of the most enchanting places in Sicily. However, if you do not want to give up too many comforts, we also have an village area dedicated to wooden bungalows, mobile homes,
glamping
tents and the possibility of using the B&B option (bed and breakfast).
Where are we?
Between Marzamemi and Pachino, in the municipality of Noto, close to the Vendicari Reserve and the sandy beaches of San Lorenzo, a strategic area to easily visit the south-eastern Sicily, especially the Baroque and archaeological areas of Noto, Scicli, Modica, Ragusa, Syracuse, Palazzolo Acreide, Ispica and Rosolini. We are also a few kilometers from Portopalo di Capo Passero and from the caribbean beaches on the Mediterranean such as Carratois, Costa dell'Ambra and Granelli.
Where to eat?
In addition to the countless excellent catering activities that the area offers (but which we will be pleased to tell you about it in person...), inside the campsite we have a kiosk in which we offer lively breakfasts and quick dinners, with particular attention to typical local products. Moreover from the campsite it is possible to directly access the adjacent
Sultana Wines
.
Where to shop?
Within a kilometer there are at least three supermarkets, various farms that sell their excellent fruit and vegetables directly and in Portopalo a thriving fish market.
In any case, if you are looking for a typical tourist village, with group dances and aperitif games, unfortunately we are not for you. And
we don't have a swimming pool
because, given that there are plenty of swimming pools in Milan or Turin, let's assume that you come here to Sicily for our beaches and our sea. But would you seriously go fifteen hundred kilometers to jump into the pool?!
Do you know how to play or sing?
So don't worry, nobody will take away a jam session with us! If you are a guitarist, a bassist, a drummer, a keyboardist or a singer, here you already find everything you need! This is our animation: play with you!
Warning! Here we separate and do well. If your sense of civic spirit stays at home while you are on vacation, keep looking… Probably not for you.
The staff of the Agricamping Sophia

Go to the Camping Rules
TENT
PLACES
Tent Pitchs, served by electricity and water (only for drawing), are distributed under the shadow of a fruit and olive tree groves, along 5700 square meters.
BUNGALOW
SOCRATE
The "Socrate" Bungalow is the right accommodation for those families or friends groups of 4-6 persons, who need large spaces.
MOBILE HOME
ARISTOTELE
It is the right accommodation for those who even if loving an essential, in contact with nature, vacancy, does not intend to reject some comforts.
TENT
EMPEDOCLE
In breathable water-repellent cotton (360 g/m2), with PVC flooring (650 g/m2), on a wooden base raised from the ground
TENT
ARCHIMEDE
It is a classic "igloo" (5-6 m2), in polyester fabric, with 2 beds. We have it assembled to perfection
BLOG NEWS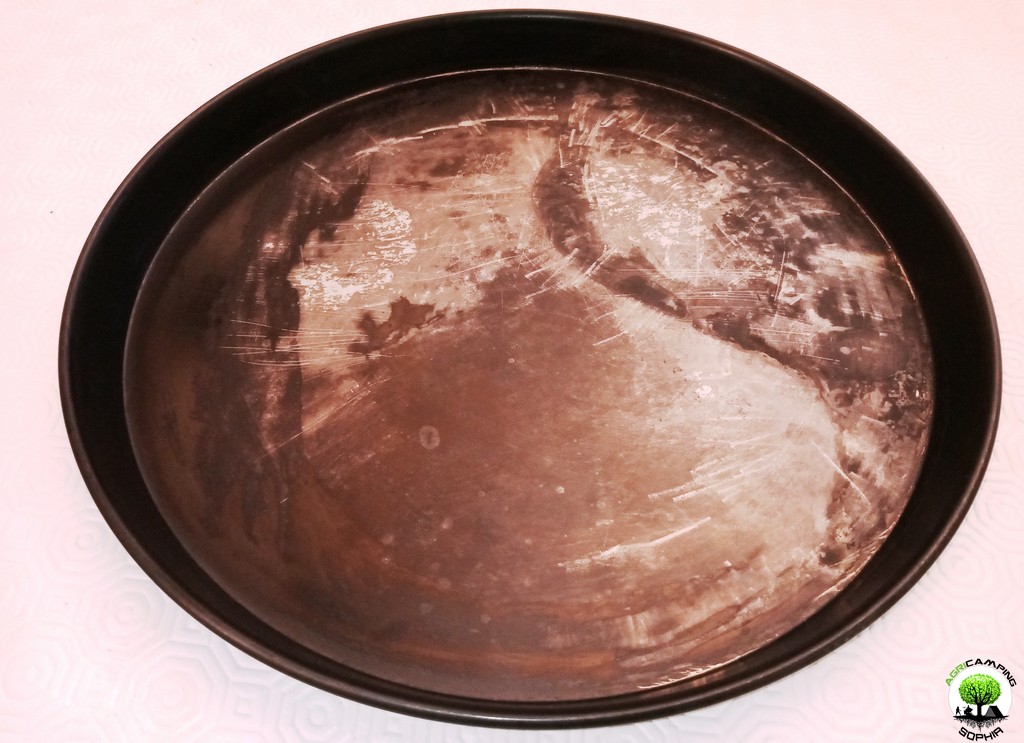 FROM CROCODILE IN NEW YORK SEWERS TO BURNING BLUE IRON TRAYS
If, like us at Agricamping Sophia, you are fond of pizzas in the pan and focaccia, you have certainly received the news or have accidentally read the miraculous cooking skills of the legendary
blue iron trays
. Out of curiosity, also thanks to the lockdown due to the Covid-19, we purchased a couple, for private use, from different manufacturers. Being aware, through the attendance of specialized forums and the reading of a myriad of articles on the net, of the mysterious
burning
which should be a preliminary operation necessary to give the green light to their use, we are here uncritically lavished in following to the letter one of the guides found among the first results of Google. The outcome? A lot of smoke, the smell of burnt oil throughout the house and two apparently ruined trays. Immediately consulted the forums we mentioned, the diagnosis is...